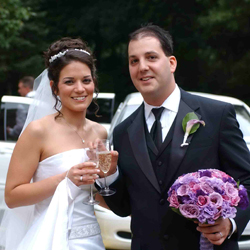 Janine & Ronnie
Cove Leigh Country Club, New York
I had visited two makeup artists when I met E. Marie. I was starting to worry that I would never find someone to give me the beautiful, yet natural look that I desired on my wedding day. Well, thankfully, my worries were gone as soon as I met her. She made me feel so at ease and comfortable, really listened to what I wanted. She was accommodating and patient.
On the big day, she did a fantastic job on my makeup. I could not believe how beautiful I looked. The thing I liked the most was that I looked like "me". She knew how to apply enough color for the pictures but still kept me looking natural. And the bonus is that not only is she talented, but she is a sweet and caring person. You can tell that she really loves what she does and is not just 'going through the motions' and for me, that made all the difference.